Spaces
28
Room Type
One-bedroom
Room Code
1B2P
Occupancy
Two-person
Rate / Person
$7,080

/Semester
Spaces
12
Room Type
One-bedroom
Room Code
1B3P
Occupancy
Three-person
Rate / Person
$4,965

/Semester
Spaces
16
Room Type
Two-bedroom
Room Code
2B2P-SM
Occupancy
Two-person
Rate / Person
$7,080

/Semester
Spaces
14
Room Type
Two-bedroom
Room Code
2B2P
Occupancy
Two-person
Rate / Person
$7,390

/Semester
Spaces
6
Room Type
Two-bedroom
Room Code
2B3P-SGLE
Occupancy
One-person
Rate / Person
$7,390

/Semester
Spaces
36
Room Type
Two-bedroom
Room Code
2B3P-DBLE
Occupancy
Two-person
Rate / Person
$6,515

/Semester
Spaces
96
Room Type
Two-bedroom
Room Code
2B4P-Loft
Occupancy
Four-person
Rate / Person
$4,310

/Semester
Spaces
328
Room Type
Two-bedroom
Room Code
2B4P
Occupancy
Four-person
Rate / Person
$6,220

/Semester
Spaces
48
Room Type
Two-bedroom with double bath
Room Code
2B4P-DB
Occupancy
Four-person
Rate / Person
$6,640

/Semester
Spaces
114
Room Type
Three-bedroom with double bath
Room Code
3B6P-DB
Occupancy
Six-person
Rate / Person
$6,245

/Semester
close expanded content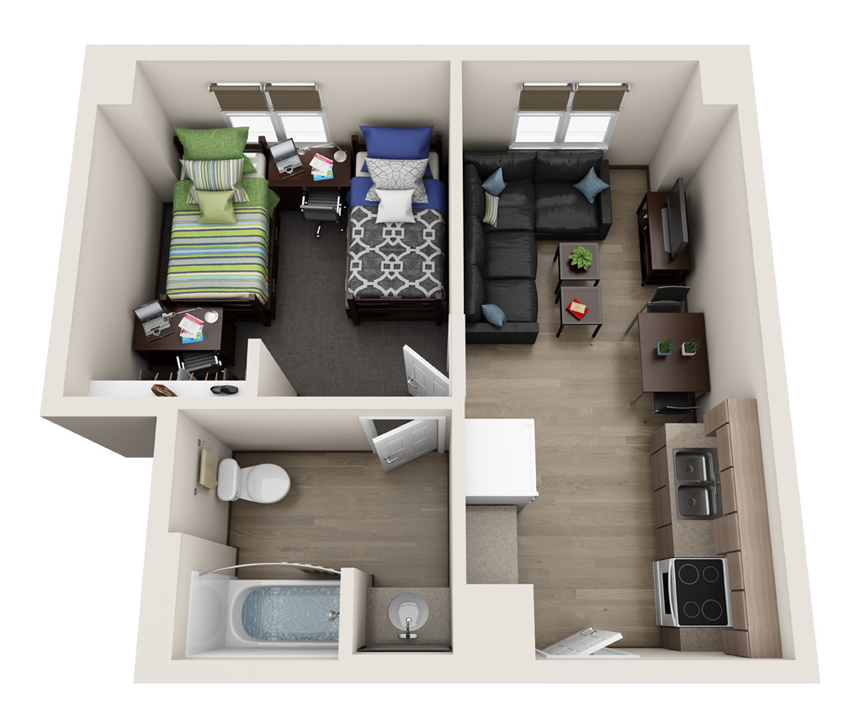 USC offers a wide-variety of floor plans. This floor plan is typical, though the actual layout and dimensions will vary among buildings that share this plan. Where the exact plan for a room type was not available, the closest approximation was used. Some items shown are for decorative purposes and not included in the room or apartment.
Air Conditioning
Customer Service Center
Required Apartment Meal Plan
Residential College
Building
The largest structure in USC Village, the Cowlings and Ilium Residential College is a tangible statement of the university's commitment to housing undergraduates on or adjacent to campus, providing over 700 spaces to sophomores, juniors and seniors.  The selection of room types is extensive: there are six two-bedroom plans alone, accommodating two to four residents, and ranging from the compact (and economical) loft format to the larger model with two bathrooms. The small two bedroom and two bedroom loft-style types emphasize efficiency and do not have a living room and instead of a full kitchen have a kitchenette, with a sink, oven and four burner range; each bedroom has small microwave oven and mini-fridge. The three bedroom floor plan and some designated two bedrooms have two bathrooms.
Clad in the university's signature brick and cast stone motif, the building is both impressive and functional, home to the Trader Joe's specialty grocery and Target Express stores, Core Power Yoga, a hair salon and the USC Village's Department of Public Safety station.  The second floor has two expansive courtyards, offering a great place to gather with friends, study or watch movies as part of the building programming.
Features & Amenities
Students living in the Cowlings and Ilium Residential College will share in all the recreational and educational opportunities the USC Village provides, as well as the convenient retail and dining choices of the complex.
Each floor has three separate laundry rooms, in addition to multiple lounges, study rooms and open seating areas. A Customer Service Center devoted to assisting residents is located on the first floor, where students can also find a large room for secured bicycle, skateboard and scooter parking.
Residents will have a mandatory partial meal plan that can be used at the USC Village dining hall, as well as other USC Hospitality outlets on campus.
Parking
Residents of USC Village may apply at USC Transportation's website for a parking permit at the USC Shrine Structure located about a block and a half east on Jefferson.
Housing Programs
This building is the home of both the Cowlings Residential College and the Ilium Residential College.
The residents of Cowlings Residential College for Arts & Cultures will become cultural explorers of the city around them, Los Angeles, home to many musicians, filmmakers, fashion designers, painters, and artists from around the world.
Building on the experience Honors students had during their freshmen year in McCarthy Honors College, Ilium is home to the Sophomore Honors program, a vibrant, tight knit community of scholars who share a commitment to rigorous intellectual and academic achievement.