Spaces
9
Room Type
Single
Room Code
SGLE
Occupancy
One person
Rate / Person
$6,075

/Semester
Spaces
1
Room Type
Large Single
Room Code
SGLE-LG
Occupancy
One person
Rate / Person
$7,140

/Semester
close expanded content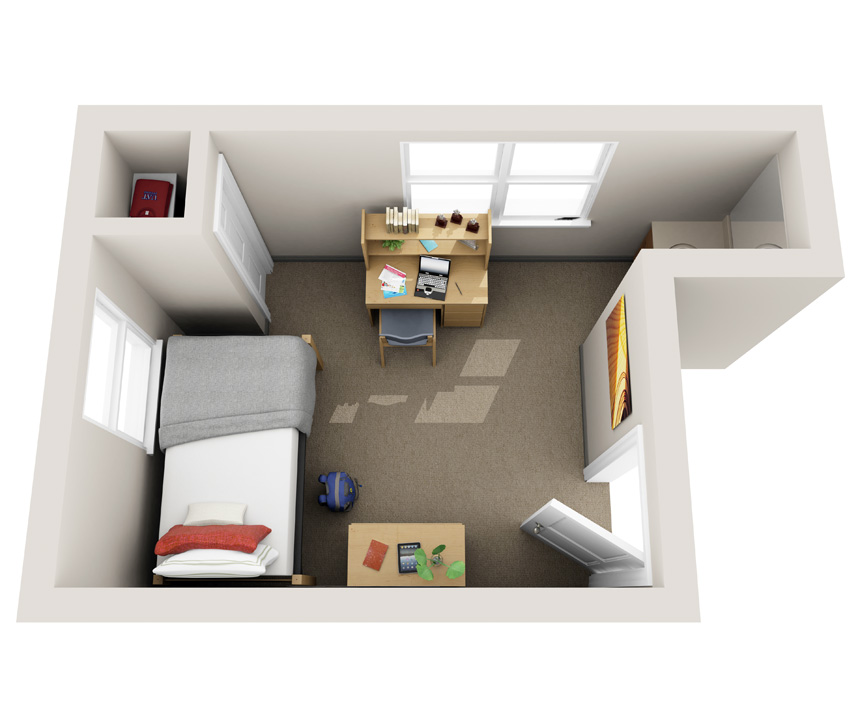 USC offers a wide-variety of floor plans. This floor plan is typical, though the actual layout and dimensions will vary among buildings that share this plan. Where the exact plan for a room type was not available, the closest approximation was used. Some items shown are for decorative purposes and not included in the room or apartment.
9-Month Contract
Air Conditioning
Parking
Building
Located at corner of 32nd Street and Royal, across from Troy East, Veterans Housing consists of two small buildings built in the California bungalow style of the early 20th century. Each has a number of single occupancy rooms, several shared bathrooms and a shared kitchen. Each building has its own laundry facility.
Bedrooms have a full size bed, a dresser, desk and chair and some form of closet space. Kitchens have full size refrigerators, sinks, and a range/oven.
Features & Amenities
The buildings' common areas feature built-in bookshelves/cabinets. The facilities have laminate floors through out and central air.
Veterans' Housing's customer service center is Troy East, located conveniently across Royal Street.
Parking
There is a small parking area behind the building; permits are managed by USC Transportation.
Housing Programs
These buildings are part of USC's initiative to provide housing for military veterans.  Priority for assignment will be offered to those eligible applicants approved through the Office of Residential Education.  Approved applicants will contracted for the Graduate 9 Month term.