Spaces
112
Room Type
Two-bedroom
Room Code
2B4P
Occupancy
Four-Person
Rate / Person
$900

/Month
close expanded content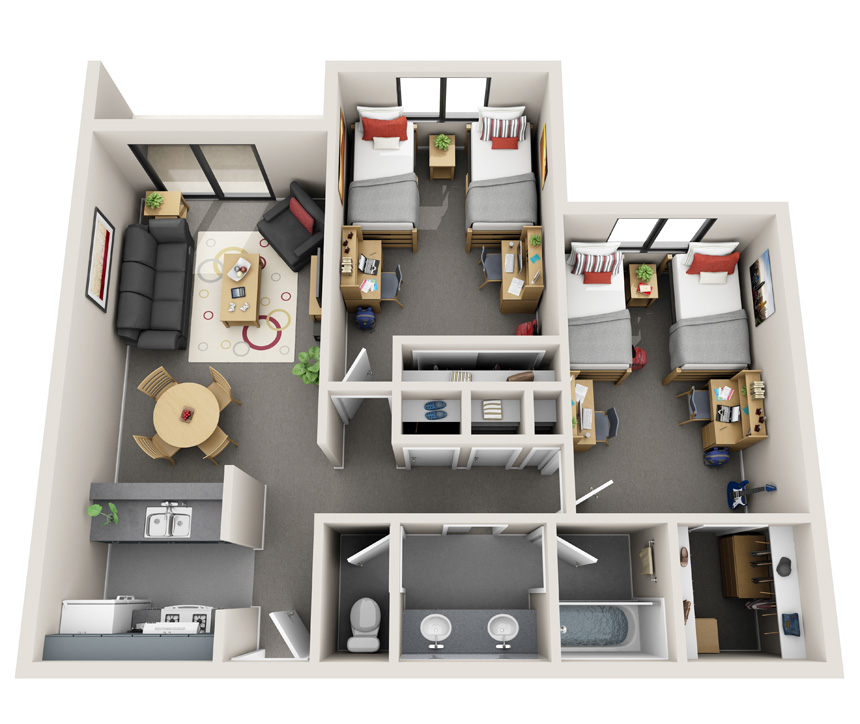 USC offers a wide-variety of floor plans. This floor plan is typical, though the actual layout and dimensions will vary among buildings that share this plan. Where the exact plan for a room type was not available, the closest approximation was used. Some items shown are for decorative purposes and not included in the room or apartment.
9-Month Contract
Air Conditioning
Living Learning Community
Parking
USC Bus Stop
Building
Hillview provides large apartments for graduate students in a two-bedroom, four-person format that provides residents the advantages and cost savings of sharing living quarters. The building's spacious, remodeled and fully furnished apartments feature independently air-conditioned bedrooms and living rooms, ceiling fans, LED lighting, new dual-pane windows with vertical blinds, as well as all new kitchens and dining areas. Many units have balconies.
Features & Amenities
A small cardio fitness area in the center of the building has a treadmill, elliptical and recumbent bicycle is exclusive to building residents. A modern study room and TV lounge on the third floor a great gathering place for groups. Hillview also has small barbecue area in the back of the building so residents can relax outside as well.
Hillview residents have the Graduate Academic Year contract term, which begins in early August and concludes in mid-May.
Parking
Parking in the building's ground floor gated garage is available through Transportation Services, and there is a USC bus stop in front of the building.
Housing Programs
Graduate Housing Programs: Viterbi Engineering (master's students)