Spaces
1
Room Type
One-bedroom
Room Code
1B1P
Occupancy
One person
Rate / Person
$1,790

/Month
Spaces
4
Room Type
Two-bedroom
Room Code
2B2P
Occupancy
Two person
Rate / Person
$1,535

/Month
Spaces
3
Room Type
Three-bedroom
Room Code
3B3P
Occupancy
Three person
Rate / Person
$1,420

/Month
Spaces
8
Room Type
Four-bedroom
Room Code
4B4P
Occupancy
Four person
Rate / Person
$1,420

/Month
close expanded content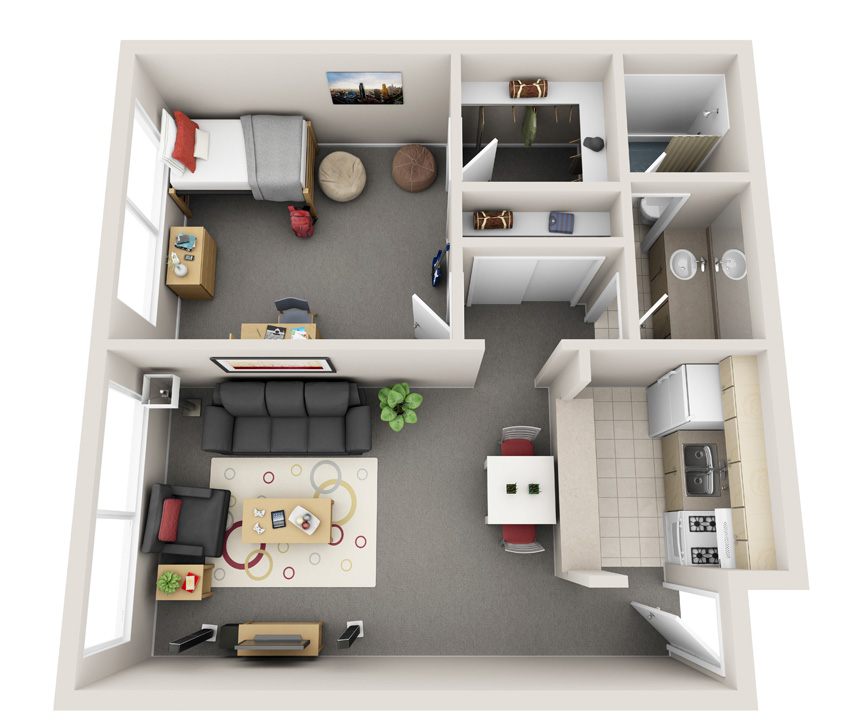 USC offers a wide-variety of floor plans. This floor plan is typical, though the actual layout and dimensions will vary among buildings that share this plan. Where the exact plan for a room type was not available, the closest approximation was used. Some items shown are for decorative purposes and not included in the room or apartment.
9-Month Contract
Air Conditioning
Parking
Building
Essentially, Severance Street Apartments is a large colonial-style house that is divided into six apartments, all with individual bedrooms and a shared living area, kitchen and bathroom. Each of the apartment types had separate bedrooms for all residents. These units offer a unique and appealing option for graduate students looking for the privacy of individual bedrooms along with the economic and social benefits of sharing an apartment. The living rooms of each apartment are air-conditioned.
Features & Amenities
Residents have the option of grilling outside using the built-in barbecue unit behind the building. A small laundry room is off the first floor central hallway.
Severance Street Apartments is minutes to campus by foot or USC bus and is convenient walking distance to the shopping and dining of USC Village.
Severance Street offers the Graduate Academic Year contract, beginning in early August and ending in mid-May.
Parking
Limited parking is available in the carport behind the building, with permits issued by USC Transportation.