Spaces
280
Room Type
Double
Room Code
DBLE
Occupancy
Two person
Rate / Person
$5,589

/Semester
close expanded content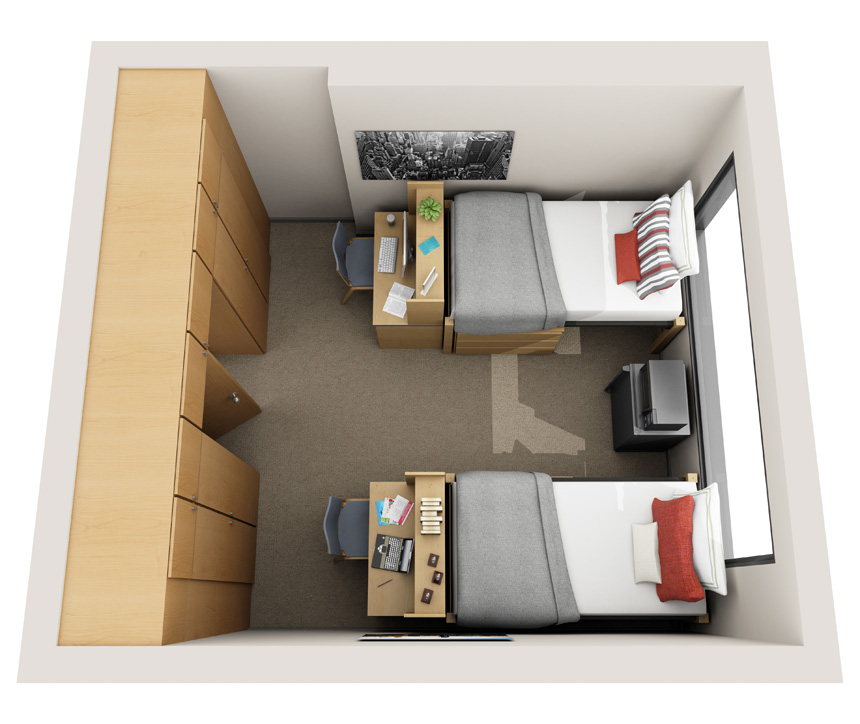 USC offers a wide-variety of floor plans. This floor plan is typical, though the actual layout and dimensions will vary among buildings that share this plan. Where the exact plan for a room type was not available, the closest approximation was used. Some items shown are for decorative purposes and not included in the room or apartment.
ATM Machine
Community Bathroom
Customer Service Center
Living Learning Community
Required Meal Plan
Residential College
Building
This eight-floor coed residence hall, close to Doheny Library and McCarthy Quad, alternates genders by floor. Each floor has 18 double rooms, a common bathroom and a laundry facility.
The modernist second-floor lounge and programming room provides several large TVs, a foosball table,  a comfortable sitting area and is great place to watch events or a Trojan football game on TV. The lounge has a kitchenette and can be reserved for private meetings or events. The second floor also has a music practice lounge, open to residents of the South Area Residential College.  In addition, there is a study lounge on each of the other floors.
Features & Amenities
This building is a great place to make friends and participate in campus activities.  The new contemporary-styled lobby has a TV viewing area where residents can relax and catch up on the news ,or play for high scores on two arcade machines with thousand of games.
Pardee has a Customer Service Center conveniently located on the ground floor and is close to dining venues.  The residents' required full meal plan is accept at all residential restaurants and other USC Hospitality locations.
Housing Programs
Pardee is part of South Residential College, and home to two of USC's long-standing cultural programs.
Living Learning Communities: Somerville Place [SMRV] and Latinx [LATF]