Spaces
36
Room Type
Single-5P-ST
Room Code
5PSGLE
Occupancy
One-person
Rate / Person
$7,535

/Semester
Spaces
14
Room Type
Double-5P-ST
Room Code
5PDBLE
Occupancy
Two-person
Rate / Person
$5,965

/Semester
Spaces
60
Room Type
Double-6P-ST
Room Code
6PDBLE
Occupancy
Six-person
Rate / Person
$5,965

/Semester
Spaces
11
Room Type
Single-7P-ST
Room Code
7PSGLE
Occupancy
One-person
Rate / Person
$7,535

/Semester
Spaces
24
Room Type
Double-7P-ST
Room Code
7PDBLE
Occupancy
Two-person
Rate / Person
$5,955

/Semester
Spaces
256
Room Type
Double-8P-ST
Room Code
8PDBLE
Occupancy
Eight-person
Rate / Person
$5,955

/Semester
close expanded content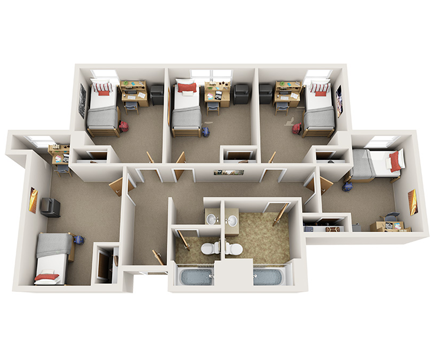 USC offers a wide-variety of floor plans. This floor plan is typical, though the actual layout and dimensions will vary among buildings that share this plan. Where the exact plan for a room type was not available, the closest approximation was used. Some items shown are for decorative purposes and not included in the room or apartment.
Air Conditioning
Community Bathroom
Customer Service Center
Living Learning Community
Recreational Facilities
Required Meal Plan
Residential College
USC Bus Stop
Building
The stately and impressive International Residential College (IRC) is located in the southwest corner of campus in the Parkside area. The modern four-story complex provides housing for over 400 students in a variety of five, six, seven and eight person suites, mixing single and double rooms. Residents enjoy privacy and independence, as well as the benefits of a residential community.
Although IRC has "international" in its name, the college is made up of students from the both the United States and around the world.
Features & Amenities
The Parkside complex has a wide variety of facilities that are shared with residents of the area including a collaborative learning center for group study, formal and informal meeting and seminar spaces, music rooms, lounges, a gaming room and a recreation room with exercise equipment. On a cool California evening, Parkside students can relax next to the outdoor fire pit in the complex's large walkway.
The central dining hall for the area, Parkside Restaurant, is located on the first floor and features international gourmet cuisine and accommodates special dietary needs, such as gluten-free and vegan. There is a required meal plan for all residents, usable at Parkside Restaurant and many other campus eateries.
IRC also has its own customer service center.
Housing Programs
The International Residential College is a center for global education and interaction, hosting a wide range of events with an international theme, as well as programs with artists and scholars from a wide range of fields,
Living Learning Community: Women in Science and Engineering [WiSE]
Video