Spaces
129
Room Type
Three-bedroom
Room Code
3B3P
Occupancy
Three person
Rate / Person
$1,355

/Month
close expanded content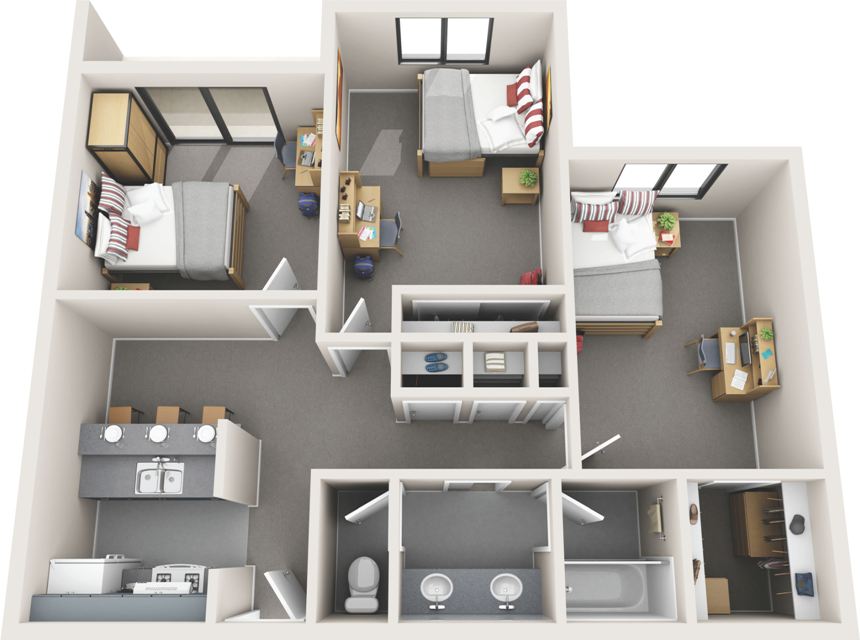 USC offers a wide-variety of floor plans. This floor plan is typical, though the actual layout and dimensions will vary among buildings that share this plan. Where the exact plan for a room type was not available, the closest approximation was used. Some items shown are for decorative purposes and not included in the room or apartment.
9-Month Contract
Air Conditioning
Living Learning Community
Parking
Recreational Facilities
USC Bus Stop
Building
Founders is home to the Graduate and International Program for students at the Gould School of Law.
This three-story, modern apartment building is located in the heart of student housing in the north university campus area. Founders' three bedroom for three people floor plan provides each resident with their own bedroom, along with a shared kitchen, bathroom and a bartop dining area. The apartments have new luxury furnishings, laminate flooring, colored accent walls, and modern window shades. All units have air-conditioned living rooms and bedrooms, and many have balconies.
Features & Amenities
Residents can relax in Founder's courtyard sundecks complete with picnic tables and chaise lounges and keep fit in the 24-hour workout center. A large laundry room is located in the center of the building.
Parking
Founders has limited car and secured bicycle parking in its ground level garage; permits are purchased through USC Transportation. There is a USC bus stop in front of the building, making it easy to get to campus.
Housing Programs
Graduate Housing Program: Graduate and International Program
In partnership with USC Housing, the USC Gould School of Law is one of the few law schools to offer housing to its students. The Graduate and International Program is designed to meet the needs of international graduate law students by providing them with safe convenient and fully furnished housing at a competitive rate.
Students in this program will have the 9-month (early August to mid-May) Graduate Academic Year contract.